---
Travel Blogger Alyssa Ramos Visits Surf You To The Moon
2017-11-22 07:58:16
---
Recently, we had the pleasure of hosting travel blogger and owner of
mylifesamovie.com
Alyssa Ramos for a full day of snorkeling and paddleboarding. We're happy to say the day went off without a hitch and Alyssa left stoked on the wild and unique experiences Surf You to the Moon offers on our tours. Read Alyssa Ramos's review of her experience with us below!
---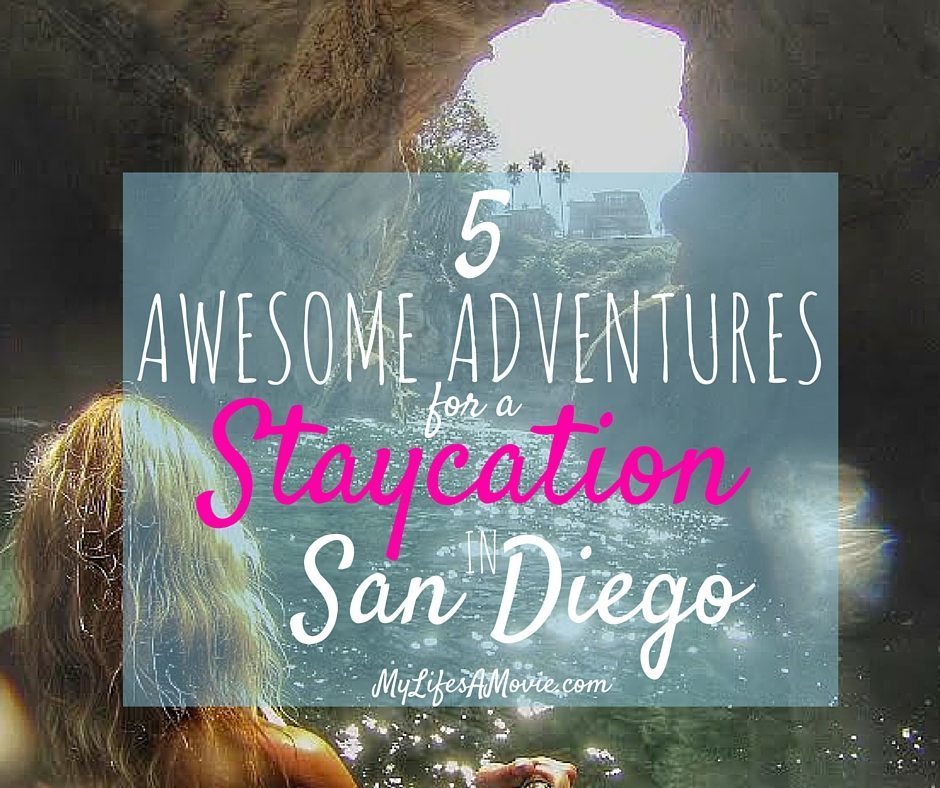 ---
To be completely honest, before I started out as a travel blogger, there was a 0% chance I would just get up and go drive pretty much anywhere outside of
West Hollywood
. Now, my quest for constant adventure is as normal as eating eggs for breakfast, and if I'm not out of the country, there's a good chance I'm going to find something I can drive to to feed my adventure addiction. I've gotten pretty good at finding hidden adventures just outside of
LA
, but decided it was time to start extending my 1-hour-driving-threshold, and see what was out there in some other well-known cities. I did my usual scouring of travel specials, and came across one that said
"Shark Snorkeling Tour"
from a company called
Surf You To The Moon
. I immediately bought it, even though my like, only fear left is of sharks, figuring it would be a good way to overcome my fear, and have a fun little staycation in
San Diego
! The owner of the company,
Evan Moon
helped me not only schedule my shark search, but add in a few other adventures they offer, plus he helped me arrange a hotel they collaborate as well! It ended up being an entire day and evening of awesome adventures that made for the perfect staycation and escape from the norm!
---
---
So if you're looking for a little weekend getaway, or are coming to visit San Diego, check out these 5 awesome adventures you can do, all in a day or two!
---
1. Shark Snorkeling Tour
---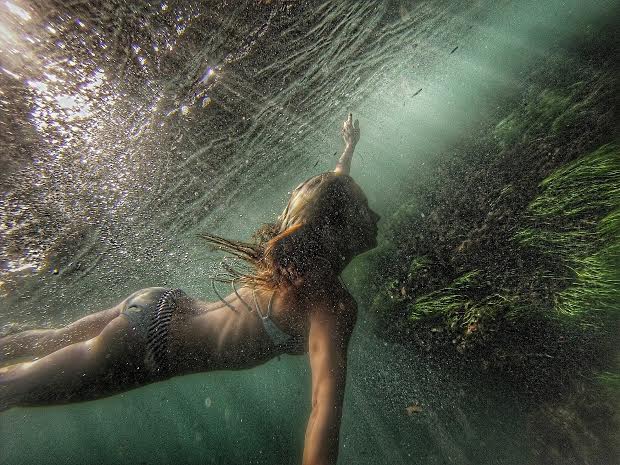 ---
As I mentioned before, the reason why I wanted to go snorkeling with sharks, was because sharks are literally the only fear I have in my life…well, besides Haunted Houses, but I'm not even going to go there. Anyway, the shark snorkeling tour takes place in
La Jolla Bay
, where you'll meet your tour guide super early since that's when the
leopard sharks
are usually out eating. Don't worry, by "eating", I mean "vacuuming" the ocean floor…although leopard sharks can get to be 6ft long, their mouth is about the size of a silver dollar, and located on the bottom of their head which means it would be pretty hard to eat you. If the water is calm, which, of course with my luck it wasn't, you'll be able to see a few, but even if they're hiding, you'll still see some cool "kelp forests" and colorful fish.
---
2. Paddleboard Cave Tour
---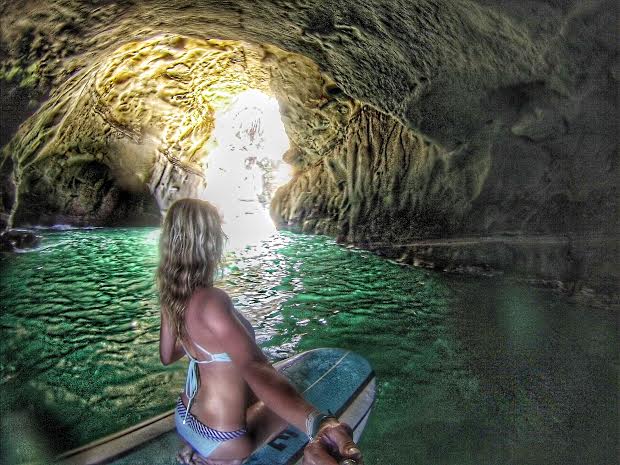 ---
Caves are even cooler when you can paddleboard inside of them. I didn't even know there were caves on the water in La Jolla, but the Surf You To The Moon tour guides (AKA 3 cute surfer guys and 1 total surfer babe) led me inside two of them!
---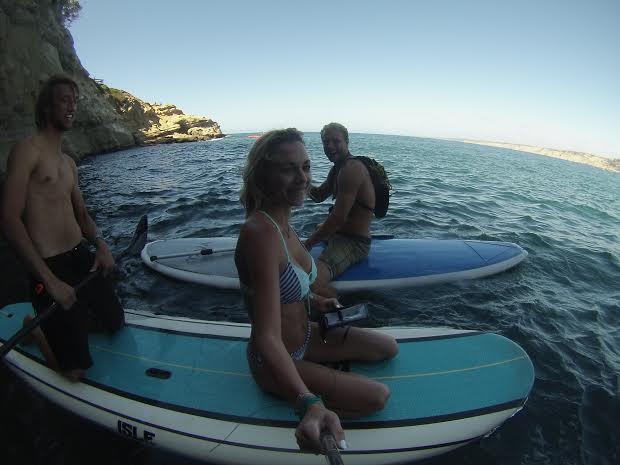 The second one was especially awesome because you go in through a narrow passage way, and then there's a larger area inside the cave! They said that usually the sea lions will come down to see you, but they were all on top of the cave tanning at the time.
---
3. Paddleboard Happy Hour
---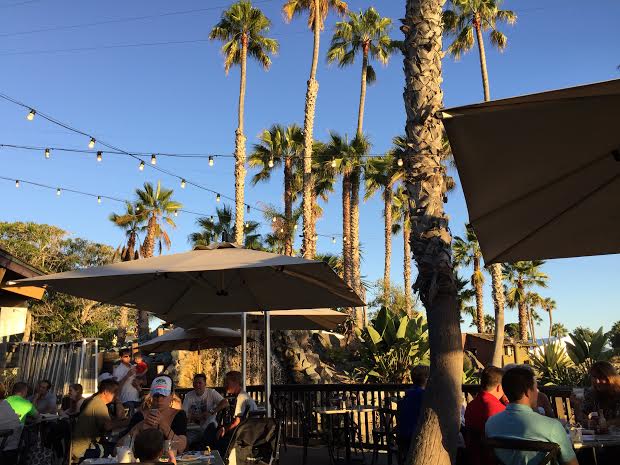 ---
After shark snorkeling and cave paddleboarding, the team took me to another location in
Pacific Beach
where they unloaded the boards from
Coconut Peet's
, and placed them in the calm bay. Paddleboarding on a bay is a BIG difference than paddling in the ocean, and perfect for the winding down portion of the day. We easily paddled across the bay to a waterfront restaurant called
Barefoot Bar and Grill
, which had some awesome menu items like Ahi Tostadas, Buffalo Shrimp, and of course, a great selection of white wines. The ambiance was awesome as well, especially since I'm a sucker for tropical outdoor seating, and waterfalls. The paddle back was interesting since it was at night, but it was really cool because you could see little jellyfish glowing at the surface of the bay!
---
4. Surf Lessons
---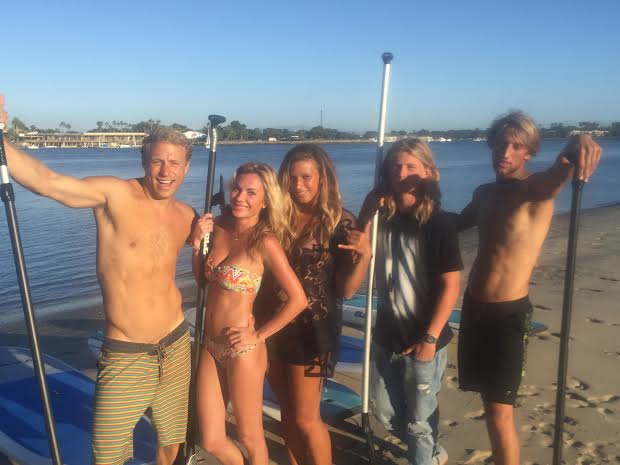 Since I don't know how to surf at all, I decided to wait until the next time to try to learn, since it would probably take a full day or two to teach me. They were very adamant and excited about giving me a lesson though, so I have no doubt that I'd be able to learn quickly. If you've always wanted to learn to surf, there's no better place to do it than in the ultimate surfer's paradise in San Diego, with some awesome, fun, and super helpful surf pros!
---
5. Staying and Playing
---
Obviously if you are going to do a staycation…you need somewhere to stay! Since I had never been to San Diego before, I asked Evan for a hotel recommendation, and luckily, he already had one in mind that they collaborate with for package deals. I walked about half a block to where some restaurants and bars are, including a micro-brewery, New Zealand cuisine restaurant, and an upscale-ish dive bar which is where I ended up. In the morning, I literally walked outside of my room to that million-dollar-view, and down a few steps to the already-bustling beach area. There were already dozens of surfers in the water by 10am, as well as a little street festival setting up with a band stage, food vendors, and local crafts and art. Unfortunately I had to get back to West Hollywood to get my dog from his sitter, so was super bummed that I couldn't stay and play at the beach more. Definitely plan to stay a full two days for a staycation in San Diego if you can, there's tons of adventures to be had there!
---
WIN A FREE PADDLEBOARD CAVE TOUR!
---
Surf You To The Moon is giving me two free paddleboard cave tours to give away, so if you're in, or going to be in the San Diego area, follow these instructions to win: 1. Follow me (
@mylifesatravelmovie
) and
@surfyoutothemoon
on Instagram 2. Like the giveaway photo —>
Click Here
3. Tag who you'd want to paddleboard in a cave with! Good luck!!! Please feel free to keep up with my cool adventure tips and giveaways by subscribing to my newsletter (on the home page) or following my
Facebook page
! Visit travel blogger Allyssa Ramos'
amazing website
to read and follow her amazing adventures across the globe
---
---